What is currently an event space, will be our high-tech factory of the future next year. At Perron038, companies from the region are building a factory of the future together. A machine and production facility where companies, students and researchers will work together. To inspire, learn and 'test before invest'.
Not an individual robot or machine, but a fully equipped factory consisting of five technology labs. Each of the labs focuses on a specific technology. Brand-new director Joost Sterenborg explains: "From vision technology, robotics and 3D metal printing to artificial intelligence and data learning. Each lab can be used or rented individually, but is part of a whole – data-driven – factory concept. That makes this facility unique of its kind." On Wednesday 22 February, he and lab leader Geert Heideman introduced the Additive Manufacturing Lab.
Associate lecturer Geert Heideman: "The first machines for the Additive Manufacturing Lab have already been delivered and are available for research and testing. Always with a skilled operator: for individual research or in collaboration with our professorship. The variety is great. LPBF, Coldspray, Wire-Laser and a Minifactory. A combination of technologies you can't find anywhere else in the Netherlands."
Researcher Tommie Stobbe told those interested more about GE Additive's new metal 3D printer M2 Series 5, which has been at Perron038 since the beginning of this year. Then Sebo Popken of TRICAS demonstrated the GOM ATOS Q 3D scanner; a technique for measuring the accuracy of printed objects. After a short break, Jaap Bulsink of K3D shared his first experiences with Meltio: Welding wire as a base material for 3D printing. Klaas Rozema of Titomic explained the operation and possibility of Coldspray. The last presentation was again given by Sebo from TRICAS. He talked about the applications and benefits of high performance polymer printing.
The visitors shared their questions and feedback on the plans to build the factory. Besides substantive questions about the various technologies, questions were asked about the types of materials that will soon be used to print in the lab. The responses showed that the visitors got inspired and there was interest in using the lab next year.
We asked engineer Brent Dekker what insights he will bring back to his working environment: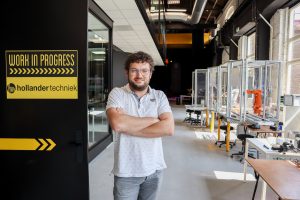 ✅ "One interesting technology I find is the GOM ATOS Q 3D scanner; with this you can check whether the printed object exactly matches the designed model. A powerful technology for validating your prototype or research. The scanner makes measurement and analysis easier. A technology I haven't seen before."
 
✅ "I am not a mechanical engineer; but it was very interesting for me to see all the possibilities of Additive Manufacturing. When designing and developing machines for our customers, it gives me some additional directions in finding a suitable technology. Also, the Professorship of Additive Manufacturing had nice examples of 3D-printed robot grippers."
Several introductory sessions on the Factory of the Future will be organised at Perron038 in the near future. Would you like to be among them? Keep an eye on our agenda.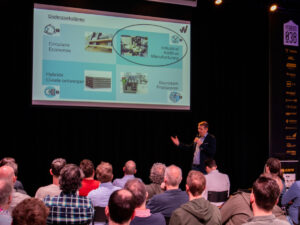 .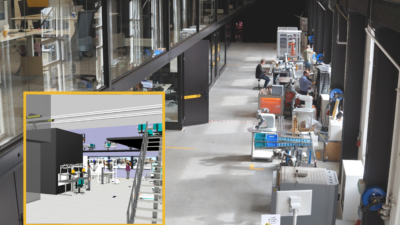 .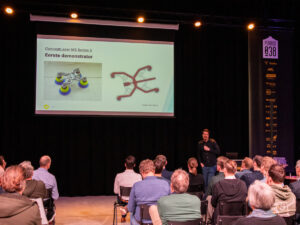 With the realisation of the Factory of the Future, Perron038 is able to help the manufacturing industry in (East) Netherlands answer their challenges in innovation and digitisation, through demonstrations, workshops and specific training courses. The environment will also be available to students and educational institutions. The facility will require a substantial investment from Perron038 and its partners and will be complemented by a REACT-EU grant from the European Social Fund.