This article was published in the magazine Kijk op Oost Nederland. 
It has been three years since innovation centre Perron038 opened its doors in Zwolle. With now 21 partners from the region, work with and learn from the latest technology for the manufacturing industry is taking place in the former NS building. The initiative is growing and preparing for the next stop: the construction of a state-of-the-art facility for SMEs and students from the region to use. Get inspired, learn and actually test in the factory of the future.
Major expansion of machinery
Anyone visiting Perron038 in Zwolle will see a wide range of technology on display. From robots and cobots to a large 3D metal printer. In projects with companies and students, successful use cases, demonstrators and teaching materials have been developed in recent years. "The knowledge gained is shared among partners and companies in the region at events. A formula that works and is valuable, but it is time for the next step," says Piet Mosterd, board member of the Perron038 foundation and Director External Affairs at AWL.
That step will take the form of new equipment. Not an individual robot or machine, but a fully equipped factory consisting of five technology labs. Each of the labs focuses on a specific technology. Project leader Marco van Wijngaarden explains: "Think vision technology, robotics or 3D metal printing, for example. Each setup can be used individually, but is part of a whole – data-driven – factory concept. That is precisely what makes this innovation facility unique." Van Wijngaarden is involved in the project from his role as Consultant Smart Industry at Hollander Techniek.
With this concept, Perron038 is able to help the manufacturing industry in (East) Netherlands answer their digitisation or specific issues, through demonstrations, workshops and specific trainings. But the environment will also be made available to students and educational institutions. The facility will require a substantial investment from Perron038 and its partners and will be complemented by a REACT-EU grant from the European Social Fund.
First impression of the facility, text continues below photo.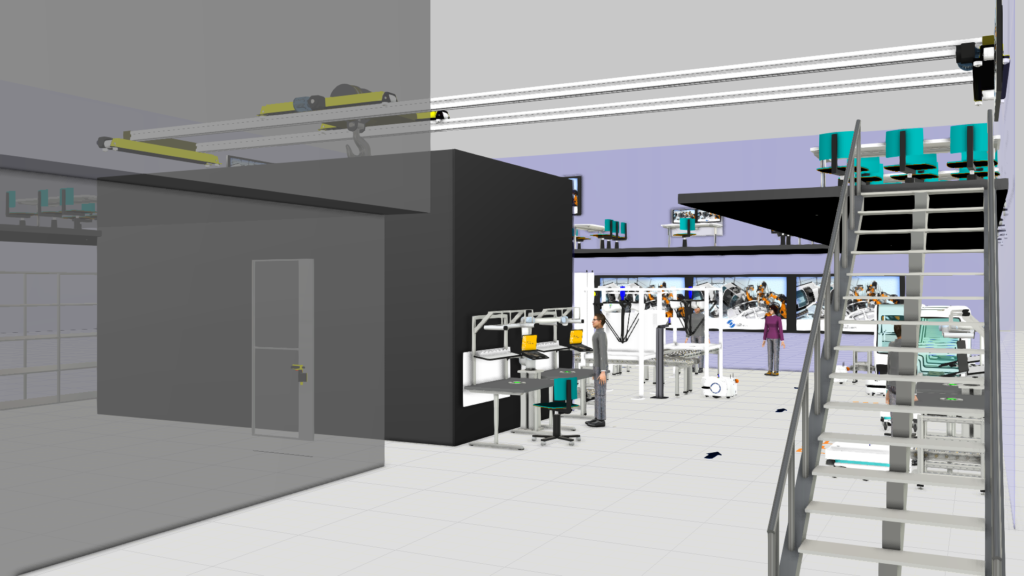 Companies in the driving seat
A project team with representatives of mechanical engineering companies active on Perron038 is working hard on the concrete set-up. In the process, new technological applications in the market are closely monitored. Project leader Marco: "However, we are involving more companies. This facility is being built for the broad range of SMEs in the region. Among other things, we have asked 50 companies in the manufacturing industry which technology is important to them. And in which way they want to use the facility. We are taking the responses into account in our plans."
Wilbert van de Ridder, R&D Engineer at AWL-Techniek, is one of those involved and responsible for the robotics & logistics lab. "In this lab, we want to develop a setup in which companies with an assembly issue can get to work concretely. For instance, we are starting with a case study from Zehnder in Zwolle. We are investigating possible solutions to automate their very lean optimised but manual assembly process. We develop and test possible solutions but also gather insight into further implications for the process, the product and the company."
The factory of the future in Zwolle is taking shape and hopes to open its doors in the second half of 2023.