Five partners, more than fifty meetings, eleven events, five demonstrators and two publications. These are the results of the first collaborative project at Perron038: Project PRISMA. In the past two and a half years, IMS, AWL-Techniek and Tembo have worked together with the Fraunhofer Project Center and Windesheim on concrete applications of vision technology. A technology that is in full development and according to all project members offers many opportunities for the manufacturing industry. On Wednesday 20 April, they shared the project results and demonstrators were presented at Perron038.
What is Vision Technology
Most of us are lucky enough to see. However, our eyes also have limitations. Many of the camera technologies that exist are more accurate than what we can see with our naked eyes. It is not without reason that lenses were developed by the Egyptians 700 years before Christ. Cameras, and therefore vision systems, are developing at a rapid pace. That is why Project PRISMA was set up to learn more about them and to develop concrete applications. Attention was paid to sensors, hardware, software and working test assemblies.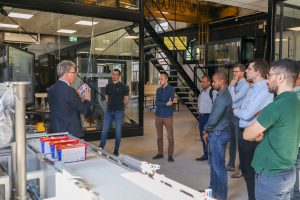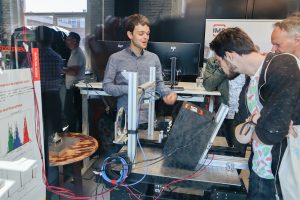 Perron038 as 'common ground'
The project, which started in the autumn of 2019, also had its challenges alongside its successes. It is precisely the lessons learned from it that are important to share, according to Marius Woldberg, director of Perron038. Marius: "To work together successfully as companies, you have to be able to be transparent and open your doors to each other. We started this project with five very concrete questions from the companies. Because their processes have many similarities, but they are not direct competitors, the willingness to share and learn from each other was great."
The Covid-19 pandemic did not always make collaboration easy. However, with its physical location, Perron038 did provide a 'common ground' for the companies. Marc Beusenberg, R&D director at IMS and project leader of Project PRISMA: "Sharing the knowledge gained played a very important role in this project. Perron038 offers all the space and possibilities for this. We are proud that, despite the pandemic, we were able to organise eleven events that attracted a total of over 450 visitors."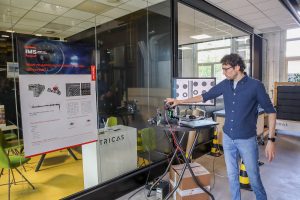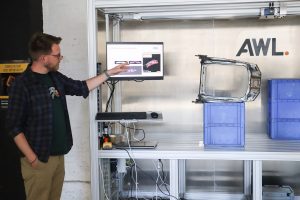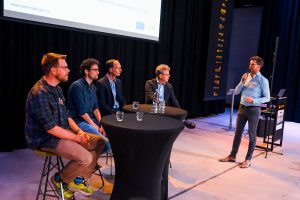 What has been developed
Tembo developed a solution using cameras to detect leakage in packaging with wax pods. Artificial intelligence also played an important role in this.
AWL-Techniek developed a logistical solution whereby boxes and packages are recognised by vision and can then be picked with a unique hydraulic gripper.
AWL-Techniek also developed an application in which vision technology is used to recognise different parts and thus further automate an assembly process.
IMS developed an application in which marked points on two parts to be welded can be recognised faster and better.
IMS developed a solution whereby the projection of a headlamp and its deviations can be detected by means of vision technology.
Touch and judge
At the end of the project, the demonstrators were shown to the public. The visitors were taken through the initial problem, the process and the working end product. They also looked at the cooperation and the lessons learned during the project. Achieving the final objective is one thing, but the road towards it is just as instructive. Perron038 and the project partners proudly look back on a successful project.
---
THANKS TO THE EUROPEAN UNION
Project PRISMA received a contribution of the European Fund for Regional Development of the European Union.