As a graduation project at Tolsma-Grisnich, Pieter Bos developed a measuring unit that accurately measures the temperature of potatoes, carrots or onions during storage to 0.05 degrees. Via Perron038's internship office, he ended up at the company in Emmeloord. A match with a successful project, which he was able to continue with after his internship as an R&D engineer. "That doesn't happen automatically," says Pieter, "It is important to immerse yourself well in the company and the customers. What I learnt during graduation I can now further develop". Especially for students in the final stage of their studies, he has some tips!
Make sure your assignment is well-defined
While studying electrical engineering, Pieter chose the specialisation embedded and wireless systems. He then looked for a graduation assignment in that field. Pieter: "I found it at Tolsma-Grisnich. I was allowed to design a measuring unit. That meant designing a schematic and a circuit board, but also writing software. A broad and large assignment. In the end, we decided to omit the software. It is important to frame the assignment well so that it remains feasible in the graduation period." He managed to deliver the hardware design, which will be validated and tested at the end of his internship. "The great thing was that I could stay involved in this because I had been offered a job in the meantime."
Pay enough attention to your report (and start on time!)
It may not be the most fun part of a project, but it is a very important one, according to Pieter: reporting and documentation. "Not only to learn from yourself, but especially for the company. Every choice you make should be clearly written down with the reason why you chose it. It doesn't matter if a certain choice doesn't work out, as long as you can explain why you chose it," says Pieter. And this documentation remains important even after the internship period. "The company may well want to look back at a particular study after several months or years. So what you write down is very valuable. Therefore, make sure you document well from the start, and don't start working on the report in the last weeks of your internship."
Communicate openly with your colleagues
In Tolsma-Grisnich's R&D department, Pieter says there is a good, open atmosphere. "Everyone has their own projects, but you discuss a lot with each other. We exchange a lot of knowledge and experience and when faced with complex challenges, we dive into the matter together to find a solution." But he says it goes beyond the technical field. Pieter: "I also learned a lot about the company and what exactly they do for clients. I don't eat many potatoes, yet I now know exactly what is important in storage and why. I soon noticed during my internship that the atmosphere is good and I fit in with the company. Early on, I indicated that I was open to joining the company. How cool is it then that I was offered a contract at the end of my internship, specifically on my own project!"
About Tolsma-Grisnich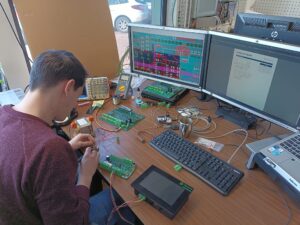 Tolsma-Grisnich develops innovative total solutions for the entire process of storing, preserving, processing and packaging agricultural products. Take a potato, for example: these are stored in bulk, at a constant temperature. This prevents the potato from spoiling. So it is very important that temperature differences in storage are not too big. Smart sensors monitor this and send the information to a computer on which all parameters are visible. Pieter is developing a new measuring unit that works together with all the other devices in the system. Measuring temperature has to be as accurate as possible. The first tests are a success and soon he will start on the next variant of the prototype. Pieter: "Product development takes time and it is a long process, but you continuously make small steps forward. I get happy when I can demonstrate that a certain part works. Working towards a measurement unit that actually hangs at our customer's premises: that really energises me."
Take advantage of opportunities at Perron038
Through some friends following the minor Factory of the Future, Pieter came into contact with Perron038 in 2022. He approached talent coordinator Yke when he started his search for a graduation internship. Pieter: "I thought, I'll choose the easy way. Through Perron038, I was able to approach several companies at once. My CV was forwarded to the partner companies and I had several interviews. This is important, because you want a graduation internship where you really learn something and where you have the potential to continue working. The assignment at Tolsma-Grisnich perfectly matched what I was looking for." During his internship, Pieter also participated in the Perron038 Internship Hub and could be found at a number of Friday afternoon drinks. "The atmosphere at Perron038 is cool and you hear what others are working on. Everyone is working on different issues and it is precisely the differences that make you think again for your own assignment. So I really recommend engineering students to join the activities and drinks at Perron038!"
Are you curious about the opportunities at Tolsma-Grisnich or one of Perron038's other partner companies? Then contact Yke at talent@perron038.nl – she will help you further with the next step in your study career!